cityofdreams.site
Fashion for women in 1920s
Women's Swimwear in the 20th Century
Fashion history was shocked into the 20th century with some of the newer all revealing figure hugging swimsuits that fashion revealed the body limbs more clearly than ever before.

Liberated from long skirts, young women of the twenties wore a figure hugging wool jersey sleeveless tank suit.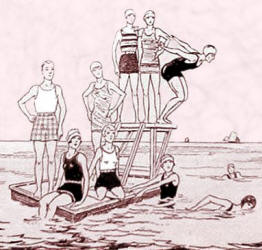 Left and right - bathing beauties in the 1920s and below in 1928
The swimming suit was ideal for the androgynous athletic figure that fashion suited best in the 20s. It looked very similar to male swimming costumes of an earlier era.
The swimsuit legs stopped at an unflattering point mid thigh and beneath the swimsuit legs were built-in modesty shorts.
Swimsuits were often in dramatic abstract patterns or stripes and those with poorer figures covered them up with wraps.
Whilst the new bathing cap of the 1920s, ideally suited to bobbed hair was not unlike the cloche hat of the same era.

Right 1929 White/black cotton swim costume and white rubber belt.
1930's Women's Bathing Suits
Feminine cotton printed bathing suits often with little over skirts to hide the thighs gradually replaced the ugly 20's fashion.

The 20's suit which sometimes sported cutout sections in the midriff panel disappeared as it evolved into a two piece garment. By this era most of us would recognise the late 1930's swimsuits as one that bears some relationship to swimwear of today. The swimming costumes shown left were made of lastex and the styles would not look too ridiculous when swimming today.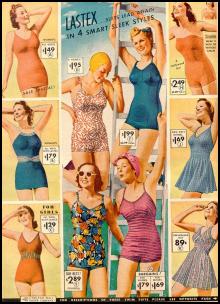 Hollywood stars also added glamour to the swimsuit so that bathers needed to consider having one in the latest fashion. Esther Williams and Dorothy Lamour along with films featuring synchronised aqua swimming whipped up interest in figure hugging costumes with higher cut legs and which revealed every body contour. Right 1931 playsuit for the beach.
1940-60 Corset Like Swimsuits
In the 1940s, corset manufacturers saw a gap in the market. Corsetry was losing ground, but the new more revealing swim suits really needed experts to design garments that hid faults in a woman's shape. They achieved this by adding stretch tummy control panels to hold in the stomach. Manufacturers also used bra cups and boning to give bust support. Costume could then be worn either strapless or with small straps that buttoned onto the inside.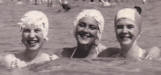 Women still continued to wear all in one swimsuits in the 1950s. They also took great care to cover up their hairstyles with a swimming cap or bathing cap, usually holding their head well out of the water when swimming. The swimming caps shown right were decorated with plastic petals or leaves to make them appear prettier than a bald fitting bathing cap.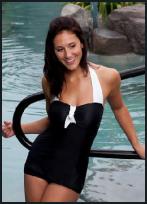 For similar retro swimwear you may find something suitable at Popina. Try Poppiswim Retro Swimwear Boutique for retro styles like this one shown left.

The bikini was still thought of as risqué and best suited to film stars and exotic dancers.
Right - Corset like swimsuit 1950-60.
A wide range of fabrics including lined cotton, stretch Lastex and elastic ruched waffle nylon was popular for a while. Zips were still used in the centre back of swimsuits retaining the corset like appearance until the early 1960s.
The swim suits of the 50s and early 60s were cut straight across the top of the leg in the form of a modesty apron that hid the separate matching fabric crutch. Subtle changes occurred in a few years and the modesty apron style soon looked old fashioned. See more pictures of swimsuits in the 1950s section. You are reading an original '1920-1990 Swimwear' fashion article by Pauline Weston Thomas at www.fashion-era.com ©
1960's Lycra Women's Swimwear
By the mid 1960s, fabrics were mainly nylon or Lycra or a mix of the two materials. The all important factor was stretch and pull on like a pair of panties.
The front panel of the garment and crotch were both cut as one. Other variations include little pleated or flared over skirts with the idea of covering saddle bag thighs.
By the late sixties swimsuits had revealing side mesh net panels or cut out midriffs filled in with see through plastic rings. Right -1960's swimsuit with plastic rings and mesh midriff.
The swimsuit did its best to keep up with competition from the two piece bikini by abbreviating it even further by cutting the legs higher as well as straight across. What is now thought of as high leg is much higher than the high leg of 1970 over 30 years ago and the phrase 'low leg' is now used to name the sixties high cut leg.
Many women still prefer a swimsuit for the beach, but especially like it for swimming. Some body shapes, especially the thicker waisted simply look better in a one piece than a two piece costume. But even those with good and slimmer figures sometimes just look much better in a one piece and many say they find a one piece more comfortable.
As the years have gone on it has become possible to buy swimwear in a wide range of cup sizes. One of the best brands for giving a good shape to the fuller body is Gottex swimwear. They use individual cup sizes, and stretch control tummy panels combined with clever cutting to create a good silhouette. Expect to pay over £80 for a Gottex swimsuit.
Don't be afraid to wear what you feel most comfortable in and remember to take a matching cover up sarong or big shirt or wrap over skirt so you can feel totally at ease walking that hundred yards to the ice cream kiosk!
The Bikini of 1946
Bikinis were seen in Crete thousands of years ago. After that pictorial evidence of 200 A.D., suggests that bikini clad women were cavorting in Sicily's Piazza Armerina.
The modern version was patented by Louis Reard in 1946. His design was more akin to the skimpy string 1970's bikinis. Bikinis made news then and as versions have become skimpier they have always attracted attention. When the Bikini was named its impact was likened to the test atomic explosion on Bikini atoll. Right - Cotton batik bikini worn by a teenager - 1980s
But its impact was nothing as radical as the G-string or even more revealing - the thong also called the Brazilian tanga. The tanga was worn more and more often in Europe and America in the 1980s and became very usual by the 1990s among the young. With it came a boon in pubic waxing and the Brazilian wax. Now in 2006 many women have taken this a step further opting for laser hair removal, which over the required sessions becomes permanently removed.
The introduction of Lycra initially promoted in the UK by Marks & Spencer has meant that Bikinis are flexible and mould to the body contour giving a better fit. Legs are cut higher now than ever before and frequently expose both bottom cheeks. Some garments are now so brief that women remain totally covered up by an oversized shirt or T-shirt or sarong wrap, removing it only for a timed sunbathing session.
Women who are larger can easily shop for swimsuits that fit by using internet services. Marks & Spencer
for swimsuits or Littlewoods are a good choice for year round purchasing of swimwear. You are reading an original '1920-1990 Swimwear' fashion article by Pauline Weston Thomas at www.fashion-era.com ©
Tan Through Swimwear
The most recent innovation for swimwear in the 1990s was the tan through fabrics used for swimwear. These fabrics allow you to tan through the fabric without showing the nude body.
Bhs - Womens Swimwear
Go back to Victorian and Edwardian Past Swimwear
Speedo Fastskin 2007
Speedo developed the Fastskin FS-PRO high performance swimsuit and made it available in 2007. In 2007 it was their lightest and fastest swimsuit. Swimming athletes comments were used to develop swimwear with the idea of producing champion swimmers. The Speedo Aqualab Fastskin FS-PRO suit has low passive drag. This means athletes swim faster in the water. The suit has a low absorption rate and it feels really light to the competitive swimmer. Unlike the average fashion swimsuit, this is a sleeveless all body suit from ankle to neck with only the arms free. It is mainly used in competition swimming as it is very costly. Some argue it is unfair to financially poorer swimmers since it needs money to buy one, so favours the wealthier swimmer and countries.

If you are seeking fully made up retro garments at reasonable cost and suitable for re-enactment in earlier eras then try those by Marianne at Recollections. You can also see a Victorian/Edwardian swimming costume example here.
NEW Read more about 1950s swimwear in the 1950s section here.
Related news
Stylish name for facebook id make
Latest bikini fashion
Fashion men clothes online
Modelina fashion babeczki przepisy
Looney tunes filmography 1930's fashion
Philip ryalls fashion
Fashion designer marc jacobs biography of donald